Simplify Your Workflow
QUICK CHANGE PERFECTION
Best-in-class repeatability (<.0001 in) is achieved thanks to the game-changing Zero Clearance Coupling. Add and remove soft jaws in seconds, with zero struggle and 100% confidence.
HIGH DENSITY FIXTURING
Fit 4 times the number of parts in the same space as a traditional 6 inch vise, and watch productivity soar.
LESS SCREWING AROUND
1 screw secures 4 parts at a time for faster loading. Achieve part density on-par with a custom high-density fixture, but with less effort.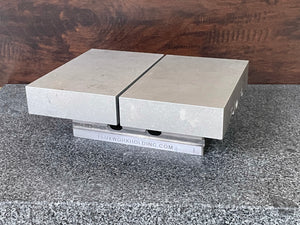 A Blank Canvas
The entire top surface is machinable. There are no cap screws to get in your way. Just choose the soft jaws that work best for the job at hand.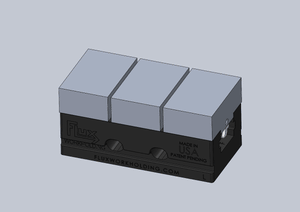 A Foundation for Success - Made in USA
MODULAR BUILDING BLOCKS
Vises and soft jaws are easy to re-use across families of parts. Your investment pays dividends long after the original job is done.
FASTEST ROI AND LOWEST COST PER PART
Don't take our word for it. Run the numbers yourself to see how you can best achieve the full potential of your CNC machining resources -> Flux Workholding Calculator
Technical Innovations
Extreme Repeatability
The innovative "Zero Clearance Coupling" secures your fixed jaw to the vise body. It never binds, and provides better repeatability than cylindrical dowel pins by an order of magnitude. The result is repeatability which easily exceeds the precision of most machine tools. The first time you use this system, you'll wonder why anyone uses cylindrical dowel pins.
Quick Change
Jaws are swapped in seconds, with just a few turns of a hex wrench.
Single Station and Dual Station
Switch from Single Station to Dual Station in seconds, and back again, without having to reset your WCS. It's like two vises for the price of one! You can fix the center jaw for the dual station configuration, or fix the back jaw for a single-station configuration.
Space Efficiency
100% of the top surface of the vise is machinable, allowing you to pack parts as densely as possible. There are no cap screws to avoid.
No-Lift Jaws
Jaw lift is minimized with optimized wedge geometry and large surface area contact with the vise bed, making it easy to hold super tight flatness tolerances on your parts.
Through-Hardened
The body of the vise is made from hardened 4140 Steel (HRC 30+)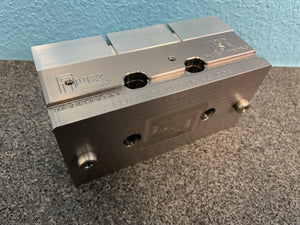 Subplate Compatible
Switch from one vise to the next with minimal effort.
The bottom of every vise contains features for mounting spherical locating studs, which can be used to locate the vise onto your subplate.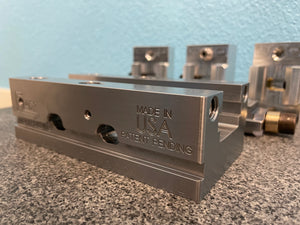 Quality of Life Features
Four drain holes are used, because nobody likes a vise full of chips. Two might have been sufficient, but four is better.
Clamping slots on each side of the vise allow you to use toe clamps to attach your vise to any T-Slot table.
Labeling of Front, Back, Left and Right are included on the vise body and all soft jaws, so it's easy to keep track of what goes where.